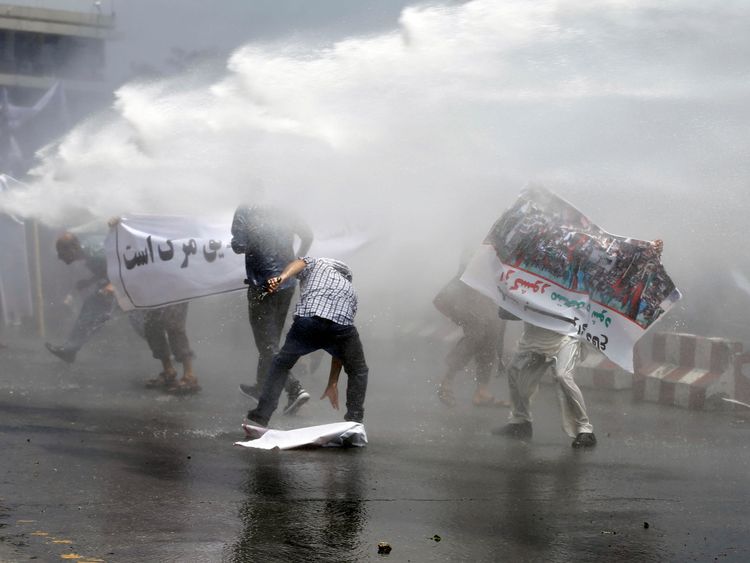 At least 12 people have been killed by explosions at the funeral for a politician's son who died in violent clashes in the Afghan capital Kabul.
The series of blasts happened as government officials - and reportedly members of parliament - were attending the burial of Mohammad Salim Ezadyar.
Two witnesses told the Reuters news agency that at least 12 were dead, while others put the death toll as high as 18. Dozens are said to have been wounded.
The Taliban denied involvement and blamed rivalries in the government.
Mr Ezadyar, whose father Alam was deputy speaker for the upper house of the Afghan parliament, was one of at least four people killed in confrontations between protesters and riot police in Kabul on Friday.
More than 1,000 demonstrators had gathered near the site of a bomb blast in the capital earlier in the week, calling for the resignation of the Afghan government, and the stand-off was continuing on Saturday.
Pressure has been increasing on President Ashraf Ghani and his administration, which has been powerless to stop a string of attacks in Kabul that have killed hundreds of civilians in recent months.
Wednesday's bomb attack - at the start of the Muslim holy month of Ramadan - was one of the worst in the Afghan capital since the US-led campaign against the Taliban in 2001.
Eighty people were killed and 460 were wounded in the atrocity, in which an explosives-laden sewage tanker was detonated in the city's diplomatic quarter.
Protesters carried banners calling for Mr Ghani to resign and pictures of some of the bomb victims.
Riot police used water cannon and tear gas to block protesters from reaching the road leading to the presidential palace.
Bullets were also fired over the heads of the crowd, with stones also being thrown at security forces.
Fifteen people were also injured during the clashes, some of them critically.
A statement from Mr Ghani's office urged demonstrators not to allow "opportunists to disrupt their civic movement and use this opportunity to sow chaos for their own benefit".
Amnesty International condemned the actions of security forces, claiming they showed "contempt for the lives of ordinary people".
Protesters also demanded that Mr Ghani execute prisoners from the Haqqani network, a Taliban-affiliated militant group blamed for the attack.
US officials are considering plans to increase the number of American troops in the country by up to 5,000.
Taliban insurgents now control or contest around 40% of the country. Before the attack, 715 civilians had been killed in the first three months of the year.
Share this post with others on social media with options below.