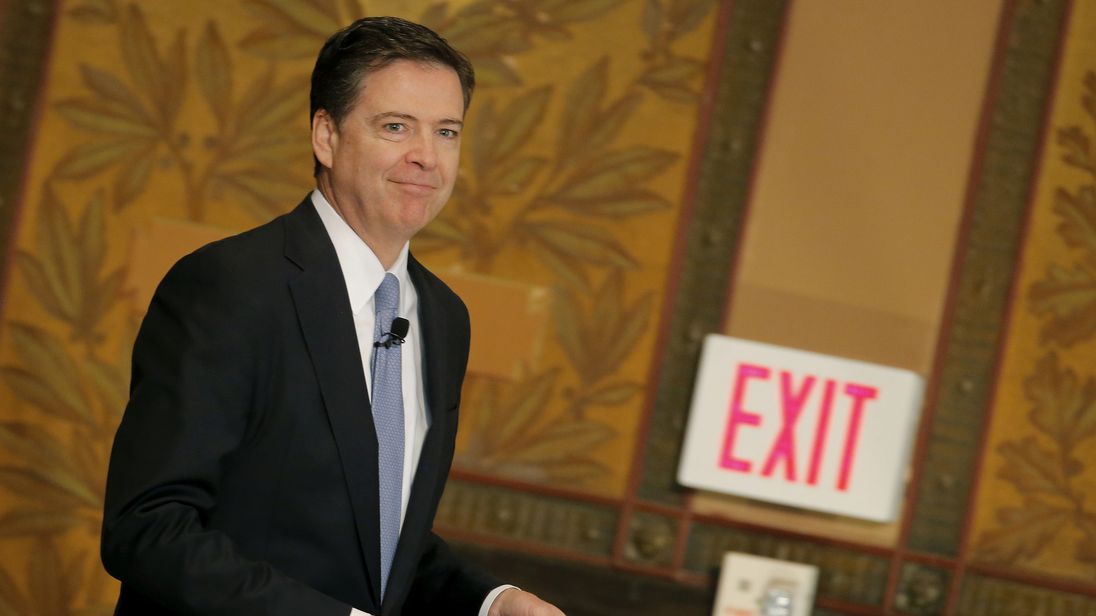 James Comey will testify on 8 June before the Senate intelligence committee investigating allegations of Russian interference in the US presidential election.
The committee said on Thursday the former FBI director will testify in an open session, followed by a close session.
He is expected to give evidence on conversations he had with Donald Trump, in which the president reportedly asked him to drop an investigation into ex-White House national security adviser Michael Flynn.
Mr Comey was fired as FBI chief by Mr Trump on 9 May.
The committee will also ask questions on Mr Comey's role in the development of the US intelligence agencies' assessment that Russia meddled in the election and any possible collusion with Mr Trump's campaign.
On Thursday, President Vladimir Putin said the Russian state has never been involved in hacking, and claimed individual "patriotic" hackers may have carried out attacks during the White House race last year.
He said that "no hackers can influence election campaigns in any country of Europe, Asia or America".
US intelligence agencies have accused Russia of hacking into and leaking Democratic Party emails, helping Mr Trump to victory in the contest.
The Guardian reported on Thursday, citing unidentified sources, that former UKIP leader Nigel Farage is a "person of interest" in the Russia inquiry.
Mr Farage

has dismissed that report as "hysterical"

.
Mr Trump has denied any collusion between Russia and his campaign and has questioned claims by US intelligence that an operation authorised by Mr Putin including hacking, fake news and propaganda attempted to influence the election.
Mr Comey was leading the investigation into the claims, and his dismissal sparked political uproar.
Last month, the Justice Department named another former FBI chief, Robert Mueller, as a special counsel to the investigation.
On Wednesday, the House of Representatives Intelligence Committee authorised subpoenas for Mr Flynn and Mr Trump's personal lawyer, Michael Cohen.
The committee's Republican chairman, Devin Nunes, who had recused himself from the Russian investigation, also approved subpoenas to the CIA, FBI and the National Security Agency over the "unmasking" of the names of Trump campaign advisers picked up in top-secret foreign communications intercepts.
Share this post with others on social media with options below.