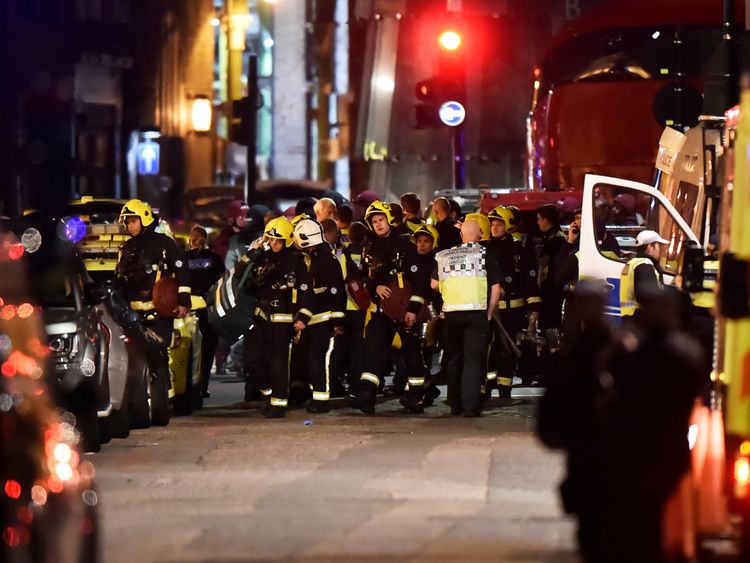 At least six people have been killed after attackers drove into pedestrians and stabbed people in central London.
Attackers drove a van at high speed into pedestrians on London Bridge just after 10pm on Saturday before continuing to drive from the bridge to Borough Market.
There, they jumped out of the van and stabbed people, including a British Transport Police officer who has serious but not life-threatening injuries to his face, head and leg.
Within eight minutes, armed police confronted three male attackers, shooting them dead in Borough Market.
Assistant Commissioner Mark Rowley said: "Armed officers responded very quickly and bravely, confronting three male suspects who were shot and killed in Borough Market.
"The suspects were wearing what looked like explosive vests but these were later established to be hoaxes."
He added: "We believe three people were involved but we still have some more inquiries to be 100% confident of that."
At least 48 victims were taken to five hospitals across London, according to the city's ambulance service. More were treated at the scene for less serious injuries.
France's President Macron said two of the victims were French citizens, with one in serious condition.
The Premier Bankside hotel was evacuated and Guy's, St Thomas' Evelina hospitals went into lockdown "to keep -patients, relatives and staff safe".
Police also responded to an incident in Vauxhall at 11.45pm but later said this was a stabbing unrelated to the two terrorist incidents.
Prime Minister Theresa May has returned to Downing Street for security briefings and will chair a meeting of the Government's emergency response committee - Cobra - later today.
She said the "terrible incident" was being treated as a "potential act of terrorism".
The Conservative Party has announced it will not be campaigning nationally today, with the Prime Minister likely to come under pressure to call off the general election.
Share this post with others on social media with options below.