Pope Francis has claimed "fake news" dates back to the time of Adam and Eve as he urged journalists to make it their mission to search for the truth.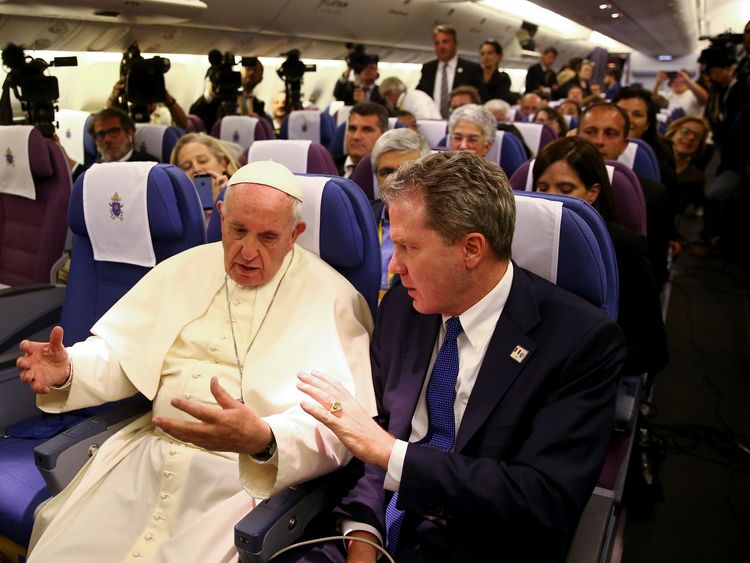 In his annual social communications message, the pontiff said the spread of disinformation was a "tragedy" and praised efforts to raise awareness among social media users.
The Pope said the first example of fake news occurred when Eve was tempted to take an apple from the Garden of Eden following lies by the serpent.
He said: "The strategy of this skilled 'Father of Lies' is precisely mimicry, that sly and dangerous form of seduction that worms its way into the heart with false and alluring arguments."
Pope Francis called for reporters to speak the truth with a journalism that is "truthful and opposed to falsehoods, rhetorical slogans, and sensational headlines".
His message did not directly mention

US President Donald Trump, who often labels unflattering or critical reports as "fake news"

to try to discredit the information.
The Pope said: "The tragedy of disinformation is that it discredits others, presenting them as enemies, to the point of demonising them and fomenting conflict.
"Fake news is a sign of intolerant and hypersensitive attitudes, and leads only to the spread of arrogance and hatred. That is the end result of untruth."
Pope Francis's message came after he faced the worst protests of his five-year papacy during his recent trip to South America.
WHEN ON WEB VIEW, SEE OUR TOP LEFT AND RIGHT SIDE BAR FOR LIVE STREAM NEWS CHANNELS (GLOBAL AND NIGERIAN )

Connect with Joshua Osagie (Blog owner)
Share this post now with others on social media. Use media options below.